Highlights of this retreat:
1. Explore the peaceful Great Wall which is off the beaten path;
2. Awesome views for photographers;
3. A few options for the outdoor activities: fit for both family with kids and keen hikers;
4. Tasty Chinese food is offered in this Nature Retreat;
5. Small group of maximum of 15 travelers. Usually the group has 6-12 travelers.
6. This event is mainly for expats in Beijing who want to escape from the hustle and bustle of the city life, and enjoy the tranquility in the countryside;
7. No commission shopping stops.

Price and discount:
The cost is 1200RMB (about 180 US$) per person. It includes transportation, entrance fees, water, four meals and guides. We give 10% discount for students, members and kids under 12's.

Hundreds-Springs Great Wall Nature Retreat:
Hundreds-Springs Nature Retreat is located in Huairou County, about 65 km from downtown Beijing. This Scenic Area has a good ecological environment with mountains, trees, springs, birds and Great Wall as well. It is an ideal place for Nature and peaceful Great Wall lovers.

Here you will stroll through woodland, enjoy the breathtaking landscapes and beautiful lakes, or take a relaxing walk on the peaceful Great Wall. It is unbelievable that you are in such a beautiful Nature Retreat which is just about one hour and a half's driving from the most crowded city of China.

The restaurant here offers tasty yet healthy food of food and drinks to energize you.

Detailed Itinerary:
We will meet at 9am and will arrive at the Scenic Area at about 10am. Firstly we will do a relaxing hike on a very peaceful section of the Great Wall. The walking distance is very flexible. You can decide how far you want to go depending on your fitness.

Then we will have our lunch in the Hundreds-Springs Scenic Area. After lunch you can take a nap, or have a cup of tea or coffee. There is a few interesting walking trails in this Scenic Area. The longest one is about 4 kilometers in a valley with rivers, lakes and springs.

Get out of the hustle and bustle of the hectic city life, forget about all your works to do, breathe the ever-refreshing air, hike or meditate on the Great Wall, listen to the nature as well as yourself, relax your body, mind and soul, get connection with the tranquility of nature and the inner peace again.

You will be able to arrange the morning of the next day. It is very flexible. We will drive back downtown Beijing after lunch.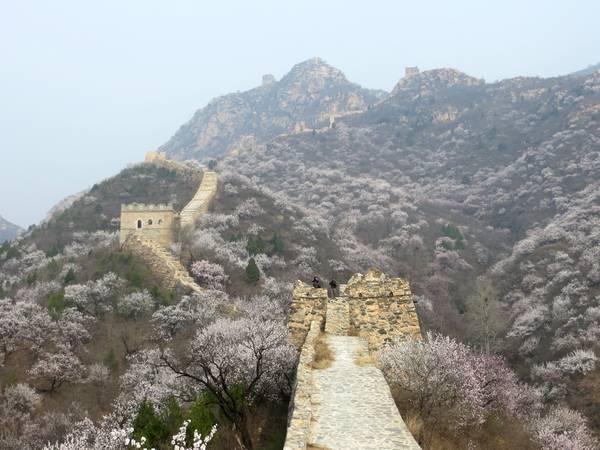 What to bring on this hike?

1. Comfortable hiking boots and a suitable size daypack;
2. Quick-drying dress in summer and windproof dress in autumn, raincoat; warm clothes for the evening, spare socks and underwear;
3. Sun protection: hat, sunscreen, sunglasses;
4. Snacks and energy complement;
5. Flashlight or head lamp;
6. mosquito killer, Some medicine for diarrhea and heat stroke;
7. Entertainment: a book, cards, a bottle of drink.
What is included on this hike?

1. Air-conditioned vehicle with experienced driver;
2. English-speaking hiking tour guide;
3. Entrance fees;
4. Unlimited bottled water;
5. Four meals.
What is excluded on this hike?

1. Travel insurance;
2. Cable car, chairlift, toboggan (slide way) or any other additional local facilities;
3. Personal expenses.
Level of difficulty for this hike: Level 2 (relaxing level)

Before booking this hike, please read about
how difficult this hike is
.
Customize this hike and make a private reservation:

In addition to our regular weekly hikes, we also offer private tours. You can customize a private hike for you, your family or your friends exclusively. Just tell us what you want and we will organize a hike for you, with places, guides, transport, food, and accommodation all taken care of. You can make
a private reservation
on the private tour page.
Pricing for a private tour:
| | | | | | | |
| --- | --- | --- | --- | --- | --- | --- |
| Group size | 1 | 2 | 3 | 4-5 | 6-9 | 10+ |
| Cost (per person) | 4500 | 2500 | 2000 | 1700 | 1500 | 1400 |
1. A private tour is more flexible. Both extra distance and less distance are available.
2. Discounts are available for larger groups.
3. Prices are quoted in Chinese dollars.