Highlights of this hike:
1. Explore the ancient cliff dwellings which were created at the end of Tang Dynasty;
2. See the amazing show at the annual Beijing Longqing Gorge Ice & Snow Festival;
3. Awesome views for photographers;
4. Fit for family with kids;
5. Home-made Chinese lunch at a local farmer's guest house;
6. Small group of maximum of 15 travelers. The group usually has 6-12 travelers;
7. No commission shopping stops.

Price and discount:
The cost is 550RMB (about 80 US$) per person. It includes transportation, entrance fees, water, lunch and guides. We give 10% discount for students, members and kids under 12's.

Detailed itinerary:
We will meet and leave downtown Beijing at 11am and arrive at the Ancient Cliff Dwelling in about two hours. We will walk up a valley to visit the caves. That area is not very big so one hour is completely enough. After that we will head straight for the Longqing Gorge Ice and Snow Festival. On the way there we will have our late lunch.

The Longqing Gorge Ice and Snow Festival is very well-organized. And we would like to make our visit there flexible. We will meet up and start driving back to Beijing at about 7pm.

The Ancient Cliff Dwellings:
These caves were created by Xi people at the end of Tang Dynasty. There are more than 350 chambers within the 117 caves covering an area of five square kilometers. The caves were important material evidence of the culture of ancient people in North China.

The Longqing Gorge Ice and Snow Festival:
Longqing Gorge is located between two tall mountain peaks and it is well-known for the annual Ice and Snow Festival. The festival is smaller than the Harbin Ice and Snow Festival but it is closer to downtown Beijing and it is more convenient to visit. Every year the theme of the Festival is different.

At the Longqing Gorge Ice and Snow Festival, massive blocks of ice are sculpted into different shapes. Among the ice artworks are temples, palaces and castles.

Bad weather plan:
We will email you 2-3 days before the hike to let you know about the weather condition. If there is thunder storm, heavy rain or strong wind we will cancel the hike or change the dates.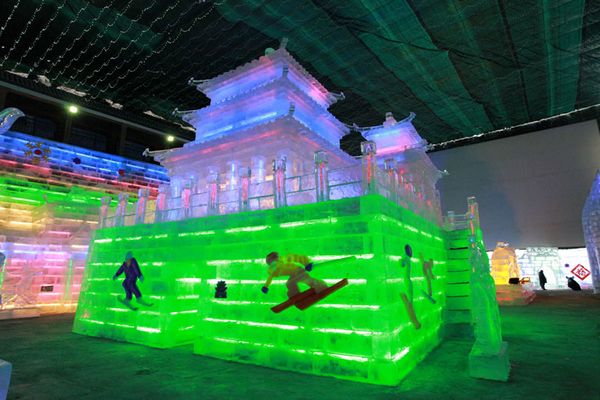 What to bring on this hike?

1. Snacks;
2. Warm clothes, gloves and hats;
3. Skid-proof shoes for walking on ice.
What is included on this hike?

1. Air-conditioned vehicle with experienced driver;
2. English-speaking hiking tour guide;
3. Entrance fees;
4. Unlimited bottled water;
5. Chinese home-made style lunch.
What is excluded on this hike?

1. Travel insurance;
2. Cable car, chairlift, toboggan (slide way) or any other additional local facilities;
3. Personal expenses.
Customize this hike and make a private reservation:

In addition to our regular weekly hikes, we also offer private tours. You can customize a private hike for you, your family or your friends exclusively. Just tell us what you want and we will organize a hike for you, with places, guides, transport, food, and accommodation all taken care of. You can
make a private reservation
on the private tour page.
Pricing for a private tour:
| | | | | | | | | |
| --- | --- | --- | --- | --- | --- | --- | --- | --- |
| Group size | 1 | 2 | 3 | 4 | 5 | 6 | 7 | 8-10 |
| Cost (per person) | 2200 | 1300 | 850 | 750 | 700 | 650 | 600 | 550 |
1. A private tour is more flexible. Both extra distance and less distance are available.
2. Discounts are available for larger groups.
3. Prices are quoted in Chinese dollars.
Notes:

1. There are risks involved in outdoor activities. Please read our
Risk Acknowledgment and Waiver
and inform yourself before participating.