1. "China Travellers in Good Hands"

Gregory from England
With her heavy duty walking stick and excellent language skills, Sonja radiates professionalism. She is an excellent guide for exploring the paths less trodden in the foothills and valleys of Beijing province. My desire was to experience a part of the Great Wall where there were no other tourists. Her choice of destination featured a stretch of the Wall connecting a series of lonely watch towers surrounded by impressive countryside approximately 90 minutes from Beijing. I found her to be knowledgeable not only about the history of the region, but also the flora and fauna. Sonja proved to be a patent guide and pleasant company. Her organization skills were excellent. I hope to be able to join her again for one of her hiking trips.
2. "Off the Beaten Track"

Santosh Ahsan from Mumbai, India
Having lived in Beijing for more than a year, I've checked out all the various options for hiking here. And China Travellers is the best of the lot because:
a) great hiking locations- they wont take you to the same old well-worn hiking trail. they spend time and effort to scout new routes which are not overrun with tourists.
b) great company - sonia is a passionate hiker and a hike with her can turn into a fascinating insight into China. you might start out with a guide and return with a friend!
c) personal attention- so its small groups, like-minded hikers and attention to details.
Overall- a very good option not only for tourists, but also for long time beijing residents who want to get away from the same old routine. strongly recommended!
3. "Unique and Excellent Experience"

Jareer Ahsan from Lahore, Pakistan
I have hiked with China Travellers a couple of times by now and I must say that each experience has been unique and excellent so far. Not only the choice of each destination was unique from exploring perspective, there was always this very close social aspect with the local community to each of these trips.
China Travellers' staff is highly knowledgeable, very professional, extremely friendly and have this great sense of responsibility not only towards their clients but also towards the community and environment around them. So from personal experience, I would highly recommend China Travllers to anyone looking for a great exploration trip or hike in and around Beijing.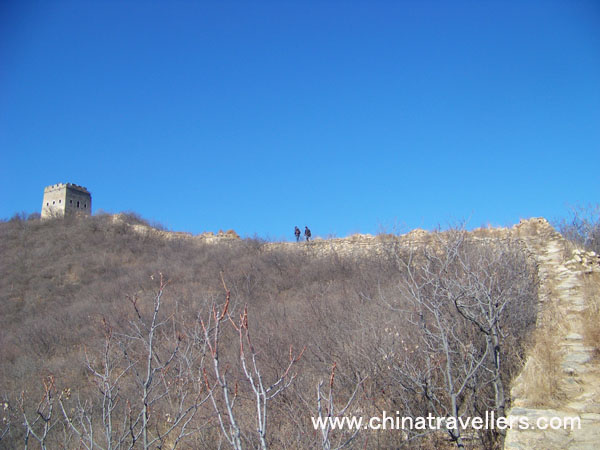 4. "Great Value Hiking Experience"

Oliver from Sydney, Australia
I have been on 3 hikes with China Travellers and they were all really interesting. We went to Gubeikou and stayed overnight in a local farmhouse which was clean and comfortable and great food.We walked through a local village and also along the Wall. I also did 9 Eye Tower at Sihai and had a tofu hot pot for lunch at a local house. Amazing food. The last hike was to Jiankou which had great scenery and again we had lunch at a local house for.The food is so good.
Sonia is a very good guide and knows many interesting places where most foreigners do not go. If you like adventure and what to see The Great Wall that many foreigners do not see, then go with China Travellers. You will have a lot of fun and an experience to remember.
5. "Reliable and Flexible"

Idris from Jerusalem, Palestine
I was visiting Beijing for a conference and connected with Sonia for a hike on the great wall, lunch in a rural village, visit to Niujie mosque and some shopping. Sonia was with us for 3 days.
I had special needs in that my mother accompanied me on the trip. She is a little older and I was not sure what her expectations were. Sonia and I discussed this and we agreed that we will have to be flexible in how we structure our experience.
Overall, Sonia was fantastic. She was very sensitive to my mother's needs and was able to change things around on the spot. When we went to the great wall, we needed to take an easier trail and Sonia's knowledge of the area enabled us to do so.
Sonia is punctual, always arriving a few minutes early. She is kind and generous. She even gave me gifts from her to give to my kids. She introduced us to good restaurants and worked around our dietary needs. In addition to being a good tour guide, we had great conversations about many things and I found her to be an insightful and knowledgable person.
6. "A truly unique and exceptional Beijing experience!"
Vincent from America
I am American and live part time in Beijing. I have done all the touristy things around the city and constantly look for something different to experience China.
I've gone on 3 different hikes with Sonia and each trip was unique! The hikes expose you to a side of Beijing that most people don't ever see.
If you're looking to experience the nature around the city, Sonia is your person! Sonia speaks perfect English and understands your needs.
Each hike I've been on with her have exceeded my expectations. The hikes are challenging and beautiful! If you have at least 4 people on your party, she can arrange a private hike for you.
I highly recommend her! The price is so fair and a great value for the experience she provides. I plan to do many more hikes with her and her company.
More Reviews

Find More Reviews of China Travellers on Tripadvisor