Home >> Get Information >> Great Wall Sections
Chenjiapu Great Wall

Chenjiapu Great Wall is located in Yanqing County, near to the border of Hebei Province. It is extremely picturesque, wonderfully quiet and absolutely unspoiled. Usually you will only meet a few hikers on the wall, sometimes nobody in sight. The maximum elevation is about 1070 metres. There are alternate routes around the steepest climbs allowing the hiker to adapt their activity to suit their hiking level. Sitting atop the watchtowers along the way, you could hear nothing but the wind...

Dazhenyu Great Wall and Xiangshuihu Natural Scenic Area

Dazhenyu Great Wall still keeps the original appearance. In spring, flowers blossomed out all over the mountain; in autumn, the leaves look like fire. Dazhenyu village is located in a valley. There are sheer cliffs and steep mountains with diverse rocks and unique peaks at both sides of the valley. The Great Wall built in the Ming Dynasty (1368-1644) winds up and down the green mountains, looking like a gigantic dragon flying into the sky...

Shentangyu Great Wall and Shentangyu Natural Scenic Area

Shentangyu Great Wall is situated in Huairou County, 65 kilometers northeast of Beijing. Shentangyu Natural Scenic Area was an important fortress for Beijing during the Ming dynasty, and the section of the Great Wall in this area is relatively well preserved. There are hills to climb, brooks and streams to wade through, and the ruins of the Great Wall to explore. The ruins of the Great Wall offer beautiful light and shadows depending on the time of day. Large rocks eroded over time create the illusion of animal forms such as eagles, camels and turtles. ...

Gubeikou Great Wall

Centuries ago, Gubeikou was a strategic pass which provided much needed access to Inner Mongolia and northeast China. Wars were common to gain control of this point and continued until the Qing Dynasty (1644-1911). Remnants of past battles can be seen on some of the broken bricks and stones. Until today the Gubeikou Winding Dragon Great Wall retains its fascination as its raw condition is still evident...

Zhuangdaokou Village and Zhuangdaokou Great Wall

Zhuangdaokou Village is under the jurisdiction of Jiuduhe town of Huairou District. Lying in the south of the town, it is next to the Great Wall from the north and lean the mountains in the south. Because the village is in the south of the Great Wall, and there is Zhuangdaokou Gateway in the north, the name Zhuangdaokou Village is got. In the north slope of Huaijiu river valley, it is within the area of sedimentary rocks in pleistocene period. The soil is sandy and flood-impact cinnamon soil...

Huanghuacheng Yellow Flower Lakeside Great Wall

Connected with Mutianyu, this section of Wall by a reservoir is a hikers' favorite, as it has never been restored. During summer, the whole area would be colored by yellow flowers and in autumn, the ground would be surrounded by yellow leaves, hence the name Huanghuacheng Great Wall (Yellow Flower Great Wall). This is a beautifully preserved section of the Wall favoured by nature lovers all year round. This section of Wall still retains its original appearance since its construction in Ming Dynasty...

Longquanyu Great Wall

Longquanyu Great Wall is a beautiful spot combining mountains, canyons, lakes, rivers, ancient villages and untouched Great Wall. It is located in Yanqing District, about 20 kilometers north of the Ming Tombs. It was built in Ming Dynasty (1368-1644) and it is one of the most ruined stretch of the Wall around Beijing. This section of wall is about 5 kilometers long and connecting Badaling Great Wall in the west and Xishuiyu Great Wall in the east...

Nine-Eye Tower and Liugou Folk Village

Built in 1543, Nine-Eye Tower is the largest-scale watchtower of Great Wall in Ming Dynasty, located at the boundary of Huairou County and Yanqing County. It was an important command post during the ancient wars, measuring 7.8m high and 13m wide. It has three layers, and there are nine holes which look like nine eyes on each side...

Zhenbiancheng (Border Defence) Great Wall

Zhenbiancheng Great Wall is situated in Huailai County in Hebei Province. There is an ancient village nearby this section of wall which is called Zhenbiancheng village. It was a very important strategic pass. This section of wall is one of the most ruined and original wall around Beijing. Unlike other sections of wall, Zhenbiancheng Great Wall was built by stones instead of bricks. Even hikers seldom know this section of wall. This Great Wall construction rates highly as an architectural achievement...

Qiangzilu Great Wall

Qiangzilu Great Wall stands seventy kilometers east of Miyun. And it is surrounded by a maze of hills and has long been a place of key strategic importance. First built during the reign of Emperor Hongwu (1368 – 1398) of the Ming Dynasty, it has been the backdrop to many important battles at various times throughout the Ming and Qing dynasties. This 10-kilometer section of wall is very well preserved, and features two beacon towers and four watch towers....

Reservations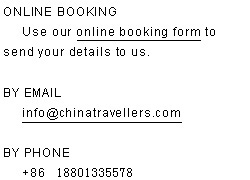 Upcoming Hikes