1. "Highly Recommended & Unforgettable"
Brett from California, America
Sonia of China Travellers is an outstanding tour guide, very knowledgeable and her prices are extremely fair. I participated in the "Winding Dragon Great Wall" hike, which exceeded my expectations in every way. This section of the Great Wall is located 120 km from Beijing in a rural farming area. There were very few tourists and most of them locals not foreigners. You will see the wall in its natural unreconstructed state. Sonia is very patient in answering any and all questions. The high point for me was the home cooked meal we received after the hike. This was the best Chinese food I have ever eaten in my life and all the ingredients were grown by the host family. This was not a restaurant, but a local family who cooks meals for tourists. I will certainly see Sonia again next time I visit Beijing!

2. "Great Wall - Winding Dragon"
Joan Savage from Indianapolis, America
Sonya was amazing! She had everything planned and taken care of so all I needed to do was show up. She even called afterward to make sure I got home safely. The place where we had lunch was all natural/organic and probably the best food I have had since I arrived in China four months ago. Sonya is also studying medicine - pretty handy when you hike level 3 trails! I completely recommend her!

3. "Great Wall - Winding Dragon"
James from Bath, the United Kingdom
A really good day out, exactly as advertised. Everything was well planned, Sonia was a great guide, the walk to the wall and lunch in a local village was really good. On the wall we had amazing views, nobody around, could just the birds singing! I went with 2 colleagues and would really recommend it to others

4. "Great Hiking, better connection to people and nature - a superb experience"
Sergiy Zubko from Washington, America
Having traveled, climbed, and hiked over and through cities and countryside on several continents, I can safely say that you will rarely find a more enriching tourist experience led by a least mercantile guide. You will quickly find that Sonia is a rarity - honest, open-minded, close to nature, and not the least interested in robbing you blind. She has already made her money in another line of work and guides tours out of passion for people and nature. I buy "why" someone sells something, not "what" it is they sell - hundreds of Chinese companies offer tours and other attractions up the wazoo, with the singular goal of shaking every last kuai (that's an RMB for those of you outside of China) out of their clients - while Sonia leads tours and hikes because she believes in pulling you out of your hectic city life and into the tranquility of nature, countryside, and the inner peace that modern humans generally seem to lack. You will not be simply guided while on a tour, you will get to become best friends with Sonia, and quite possibly with the others on your trip. Expect to see the beautiful side of China many don't know exists - just hours outside of Beijing there are vistas and sights that will make your heart rejoice (your lungs too, as the air is fresh and clear here). Stepping out of a metropolis with 18 million people and into mother nature, you will feel as though you stepped into a fairytale.
Jump at the chance to visit the ruined sections of the Great Wall - these bastions have never been restored and offer the most authentic look at this magnificent structure. Let thousands of other tourists line up along the Badaling section of the Wall - you will find that besides Sonia and other members of your party, your travel companions will be limited to birds, bugs, and whatever local animals you may run across. Imagine that solitude after the hustle and bustle of the CBD or the Forbidden City. That's right, now you know whom to call when you want to get out of Beijing and see the real China.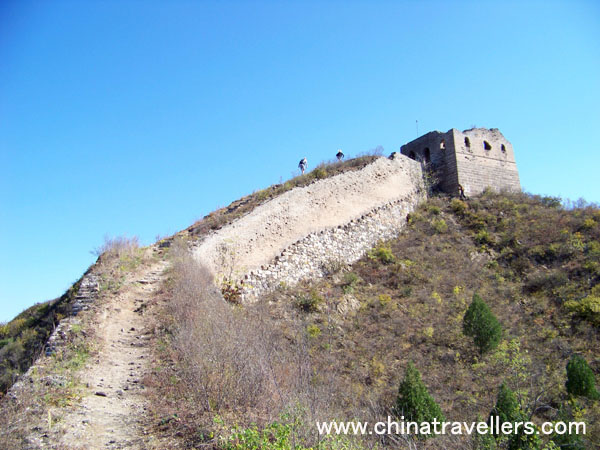 5. "Gubeikou Winding Dragon 2 Day Jinshanling Great Wall Hiking"

Kristoffer Pettersson and Ida Peterson from Stockholm, Sweden
Private two-day tour where we got to see two different parts of the wall. Giant Beautiful! Sonia was honest and helpful guide that I highly recommend. Stayed overnight we made on a small farm that received hikers. Very good food!
6. "the Smartest Thing that We Did on Our Entire Trip"

Myron Koenig and Helen Koenig from America
Sonia was our guide for three days in Beijing and hiring her was the smartest thing that we did on our entire trip. She took us to an unrestored part of the great wall and we hiked with no one around. It was fantastic. She is enthusiastic, her English is excellent and she customized our tour perfectly. She took us to authentic restaurants with excellent food and not another tourist in sight. Our first experience with Tours by Locals could not have been better. Thank you so much Sonia.
More Reviews

Find More Reviews of China Travellers on Tripadvisor