Highlights of this hike:
1. Explore the most stunning wild Jiankou Great Wall which is off the beaten path;
2. This section of wall is completely untouched and almost devoid of tourists, allowing for a serene walk;
3. Awesome views for photographers;
4. The walking condition is multiple which offers great challenge for experienced hikers;
5. Home-made Chinese lunch at a local farmer's guest house;
6. Small group of maximum of 15 travelers. The group usually has 4-12 travelers;
7. No commission shopping stops.

Price and discount:
The cost is 400RMB per person. It includes transportation, entrance fees, water, lunch and guides. We give 10% discount for students, members and kids under 12's.

Detailed itinerary:
Jiankou Great Wall has perhaps the most frequent appearance on picture books and post cards of the Great Wall. This section of wall retains its original appearance since its construction in 1368. It is uniquely made of large white rocks. Jiankou Great Wall is considered to be a "wild" section of the Great Wall, due to its disrepair and its location along a mountain ridge with steep cliffs on each side, which makes it an ideal place for adventurous and experienced hikers and photographers.

We will start our hike along a trail in the mountains. It is easy to get to the wall. We will take a detour round some very dangerous parts such as "The Eagle Flies Facing Upward" watchtower and "Sky Stairs", but you still have chances to witness the stunning scenery of these dangerous parts. We will walk on the wall for about 3 hours and then will follow a nice mountainous trail down to Xizhazi village. We will have a lunch at a local farmer's guest house after the hiking.

If you're looking for some truly extraordinary hiking in one of the most beautiful natural settings, then Jiankou Great Wall is a wonderful choice. The hiking trail on the wall is really interesting but it requires at least average fitness.

Bad weather plan:
We will email you 2-3 days before the hike to let you know about the weather condition. If there is thunder storm, heavy rain or strong wind we will cancel it, change the dates or arrange a tour to the restored section of the Great Wall.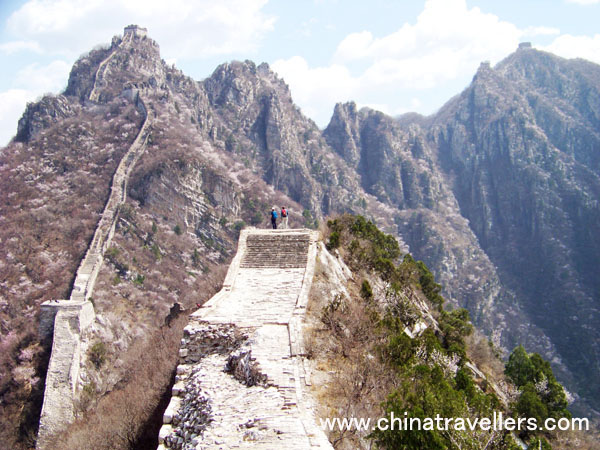 What to bring on this hike?

1. Snacks;
2. Sun protection: hat, sunscreen, sunglasses, long-sleeved shirt;
3. A bottle of sports drink with salt content;
4. Comfortable sport shoes (hiking boots are strongly suggested).
What is included on this hike?
1. Air-conditioned vehicle with experienced driver;
2. English-speaking hiking tour guide;
3. Entrance fees;
4. Unlimited bottled water;
5. Chinese home-made style lunch.
What is excluded on this hike?
1. Travel insurance;
2. Cable car, chairlift, toboggan (slide way) or any other additional local facilities;
3. Personal expenses.
Level of difficulty for this hike: Level 4 (challenging hikes)

Before booking this hike, please read about
how difficult this hike is
.
Customize this hike and make a private reservation:

In addition to our regular weekly hikes, we also offer private tours. You can customize a private hike for you, your family or your friends exclusively. Just tell us what you want and we will organize a hike for you, with places, guides, transport, food, and accommodation all taken care of. You can
make a private reservation
on the private tour page.
Pricing for a private tour:
| | | | | | | | | |
| --- | --- | --- | --- | --- | --- | --- | --- | --- |
| Group size | 1 | 2 | 3 | 4 | 5 | 6 | 7 | 8-10 |
| Cost (per person) | 2500 | 1300 | 900 | 800 | 750 | 700 | 650 | 600 |
1. A private tour is more flexible. Both extra distance and less distance are available.
2. Discounts are available for larger groups.
3. Prices are quoted in Chinese dollars.
Notes:

1. There are risks involved in outdoor activities. Please read our
Risk Acknowledgment and Waiver
and inform yourself before participating.
Other information about this hike:

Reviews of this Hike
Information about Jiankou Great Wall
Great Wall Facts