Highlights of this hike:
1. Explore two high mountains around Beijing which are about 2000 meters high: Yellow-Grass Mountain and North Lingshan Mountain;
2. Awesome views for photographers;
3. A nice cool retreat in summer: There has an average temperature 12 degrees lower than downtown Beijing;
4. Walkig along an ancient commercial road in the Qing Dynasty;
5. Big Challenge for experienced hikers;
6. Small group of maximum of 15 travelers. The group usually has 6-12 travelers;
7. No commission shopping stops.

Price and discount:
The cost is 420RMB per person. It includes transportation, entrance fees, water and guides. We give 10% discount for students, members and kids under 12's.

Detailed itinerary:
The Yellow-Grass Mountain Scenic Area is located in the north area of Zhaitang Township, Mentougou District, Beijing City. Its main peak is 1,732 meters above sea level, and it is located 14km from the township government, west of Mount Ling, south of Baihua Mountain, and north of beautiful natural scenery, with luxuriant vegetarian, majestic mountains, stones of various shapes, singing birds and fragrant flowers. During the Ming Dynasty this was a frontier fortress, and to this day one may still see seven tall lookout towers, as well as 2,000 meters of the Great Wall. During the Qing Dynasty, from west of Beijing to Huailai County of Hebei Province, a commercial road once passed through there. The cavalry continued delivery of goods through here day and night, and this commercial road, covered with stones still remains here today.

The Yellow-Grass Mountain is a combination of natural landscape and human landscape. And people have not yet developed the West Beijing mountains, which makes its beauty even more natural and pure. The Yellow-Grass Mountain contains well preserved natural vegetation, and the plant species change depending on mountain elevation. The peak is a famous alpine meadow in Beijing -Shiliping, which covers an area of 1,500 meters above sea level. The lookout towers of the Yellow-Grass Mountain are very closely spaced and tightly interconnected. Lookout towers numbers 6 to 11, along with a banging stone lookout tower, are commonly known as the "7 buildings". These acted as defens' posts during the Ming Dynasty and have been very well preserved. The "7 building" were a line of defense, which was built after senior Defense Department officials and local officials observed the terrain during the Ming Dynasty.

We will start our hike from a trail in the mountains. This trail isn't very steep but it is very long and keeps on going up. In the Yellow-Grass Mountain area, in addition to the ancient Great Wall, there are many distinctive attractions to enjoy. The most notable of all is the "Elephant Trunk". There is a path on the hillside, atop is a cliff, below are deep valleys which are about 20 meters deep and 2 meters in diameter. A pillar leans on the cliff, which looks exactly like an elephant, making this area a popular location for taking photos. The Yellow-Grass Mountain also has a variety of rocks in its vegetation, as well as ancient monuments.

We will reach the "Shiliping" alpine meadow about 2.5 hours later and will have our lunch there. After lunch we will walk northwest to reach the North Lingshan Mountain. We will come down from the north side of mountain and our driver will be waiting for us at the parking lot of North Lingshan Mountain.

Bad weather plan:
We will email you 2-3 days before the hike to let you know about the weather condition. If there is thunder storm, heavy rain or strong wind we will cancel the hike or change the dates.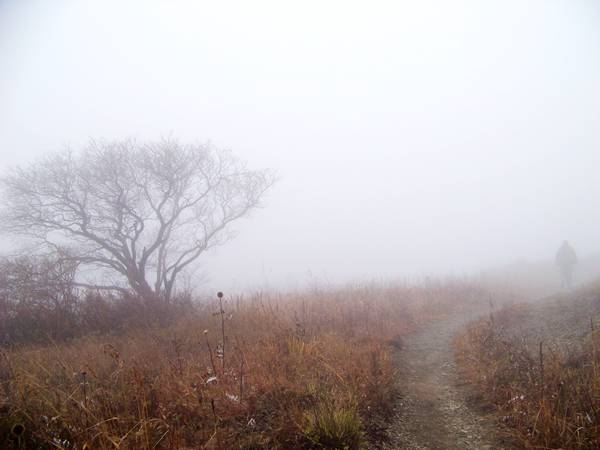 What to bring on this hike?

1. Lunch and Snacks;
2. Sun protection: hat, sunscreen, sunglasses, long-sleeved shirt;
3. A bottle of sports drink with salt content;
4. Comfortable sport shoes (hiking boots are strongly suggested).
What is included on this hike?

1. Air-conditioned vehicle with experienced driver;
2. English-speaking hiking tour guide;
3. Entrance fees;
4. Unlimited bottled water.
What is excluded on this hike?

1. Travel insurance;
2. Cable car, chairlift, toboggan (slide way) or any other additional local facilities;
3. Personal expenses.
Level of difficulty for this hike: Level 4 (challenging hikes)

Before booking this hike, please read about
how difficult this hike is.
Customize this hike and make a private reservation:

In addition to our regular weekly hikes, we also offer private tours. You can customize a private hike for you, your family or your friends exclusively. Just tell us what you want and we will organize a hike for you, with places, guides, transport, food, and accommodation all taken care of. You can
make a private reservation
on the private tour page.
1. A private tour is more flexible. Both extra distance and less distance are available.
2. Discounts are available for larger groups.
3. Prices are quoted in Chinese dollars.
Notes:

1. There are risks involved in outdoor activities. Please read our
Risk Acknowledgment and Waiver
and inform yourself before participating.

Other information about this hike:
Reviews of this Hike
Information about Huangcaoliang Mountains